If you are missing teeth and struggling with loose, uncomfortable dentures, dental implants could change your life! At Wildflower Dental & Orthodontics, we are happy to offer start-to-finish dental implants, so you don't have to go all over town to get the care you need.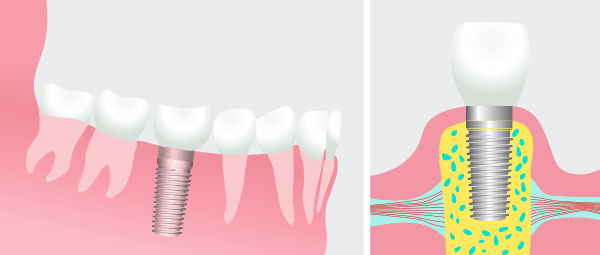 A dental implant is a great way to restore your smile if you are missing one or more of your teeth. The implant is a small post that is made of a biocompatible titanium material that Dr. Walkington will surgically place into your jaw. The post will fuse with your jaw and once it heals will become extremely solid and essentially act as the root for your new "fake" tooth. This implant can be used for crowns, bridges, and even dentures! If taken care of properly with good oral hygiene and routine dental checkups, your dental implant could last a lifetime!
We offer the following types of dental implants in our office, and can complete procedures from start to finish.

Single Tooth Replacements
A permanent solution for replacing a single tooth, this procedure is the most simple form of dental implants.
Multiple Tooth Replacements
This is known as a "fixed bridge". The dental implants will be placed for as many teeth need replacing.
Full Arch Replacements
This procedure is known by some as "full mouth restorations." This is a great option for those who are missing many or most of their teeth but don't want removable dentures.
Implant-Supported Overdentures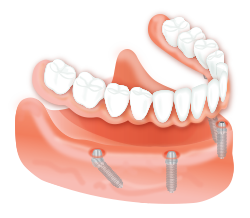 If you have dentures but are tired of using adhesive or the slipping that can occur, we can use implants to permanently anchor the dentures in place.
Computer-Guided Dental Implants
The advancement of technology has made dental implants even more accurate and natural. With 3D imaging software, we can digitally create your jawbone to help guide us when placing the implants. With a detailed map of your facial anatomy that the software provides, it will help us avoid sensitive and critical nerves, roots, and sinuses. This new technology means a better dental experience for the patient by saving you time and the number of visits generally needed for dental implants. Now that's something to smile about!

Bone Grafting for Implants
Often, when you lose a tooth, the bone surrounding that missing tooth will soften and shrink, and the gum tissue recedes around the open space. For an implant to properly fuse with the jawbone and be a successful restoration, healthy bone and gum tissue is necessary. If Dr. Walkington notices bone or gum issues that may prevent your implant from fusing quickly and properly, he may suggest a bone graft to strengthen the bone in preparation for your implant.