Your Comfort is Our Priority
As your dentist, Dr. Walkington and the team at Wildflower Dental & Orthodontics strive to provide all of our patients with comfortable and efficient dental care. That's why we make sure to use the most up-to-date technology available to us for procedures. We also offer sedation dentistry to patients suffering from dental anxiety. Our goal is for every patient to have as pleasant an experience in the dental chair as possible.
State-of-the-Art Technology
In addition to making dentistry more efficient and interesting for us, advancements in dental technology also improve your experience as a patient. Whether they're saving you time, keeping you comfortable, or giving you the smile of your dreams, our state-of-the-art amenities will completely change the way you think about going to the dentist.

Isolite™ Patient Comfort System
Isolite is a revolutionary technology that gives the patient a more comfortable dental experience while assisting Dr. Walkington with his work. It will comfortably hold your jaw open for the duration of treatment so you aren't required to strain yourself. It illuminates the inside of your mouth for optimum viewing and the built-in suction removes excess saliva and debris so we can work more easily.
Schedule your visit today and see how this small invention can make huge difference in your dental experience!
Schedule an Appointment
Low Radiation Digital X-rays
Digital X-rays require no chemical processing, no sharp pieces of X-ray film, and emit significantly less radiation than traditional X-rays. Digital X-rays are a smart choice for your smile and the environment. We use digital X-rays for patients of all ages because many problems with teeth and surrounding tissues cannot be seen by the naked eye.
An X-ray is needed to reveal:
Small areas of decay between teeth or below existing restorations
Deep cavities
Infections in the jaw bones
Gum disease
Abscesses or cysts
Developmental abnormalities
Some types of tumors
Intraoral Camera
Taking digital photographs with our intraoral camera allows us to show you what we see inside your mouth. We are able to take incredibly clear pictures of your teeth and gums, enabling us to identify problems earlier and also guide you through your exam, diagnosis, and treatment plans. The intraoral camera provides you with the opportunity to be a partner with us in keeping your mouth and smile healthy and strong!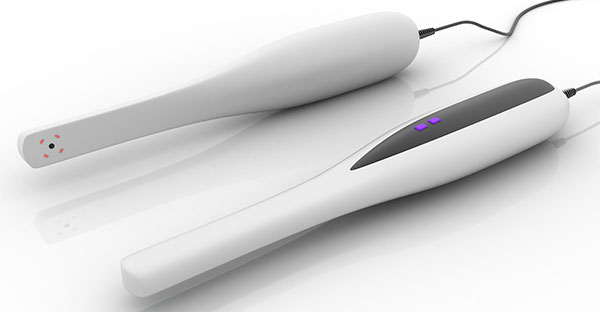 CEREC® Same-Day Crowns
With CEREC®, we can design, make, and place crowns in only one office visit! Using a special 3D camera, we take several images of the tooth to be repaired. Using those images, we digitally design a restoration that we then mill right in our office. The computer-aided milling process is extremely precise, ensuring a fit that feels natural when we bond the newly-made crown to the tooth. Your single-visit crown will feel as good as your natural tooth, if not better!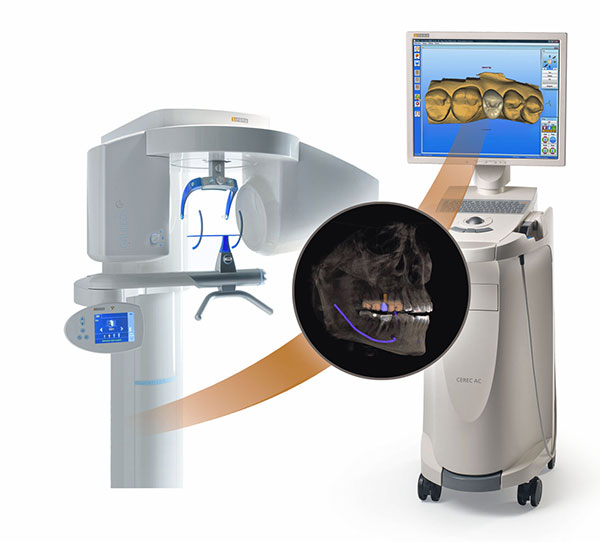 Benefits of CEREC:
Saves your valuable time
Avoids the hassle of a plastic temporary crown
Eliminates the need for impression trays of messy goo in your mouth
ConeBeam CT Scanning
ConeBeam imaging creates very high quality, 3D digital x-rays for dentists and their patients. By mounting a digital x-ray scanner on a mechanical arm, it will rotate around the patient's head and capture a 3D view of your mouth.
Data is collected in one complete circular pass of the scanner. The data is converted into images that can then be pulled up on a computer screen in a variety of angles and views, including 2D, 3D, and panorama. Frisco and Prosper dentist Dr. Walkington can use these images to plan dental implants, diagnose when root canal therapy is needed, and more.
ConeBeam imaging allows Dr. Walkington and our team at Wildflower Dental & Orthodontics to fully see the relationship between patients' teeth, bones, nerves, tissues, and airways like never before. We believe complete information is a vital component of total dental care!

Anxiety-Free Dentistry
We understand that people of all ages can experience dental anxiety, and we strive to make your visits with us as pleasant as they are effective. In addition to our relaxing sedation options, we have equipped our private treatment rooms with blankets and TVs to keep you comfortable and entertained throughout your visit. Your comfort is of the utmost importance to us.

Nitrous Oxide
Nitrous oxide, or laughing gas, is mixed with oxygen and inhaled through the mouth or nose. It promotes an extreme sense of relaxation and well being for the duration of your treatment. You will be awake and remain able to communicate with Dr. Walkington if he has any questions. It only takes a few minutes of normal breathing once the nitrous oxide is removed so you can go about your day as normal after your appointment.
Nitrous oxide is one of the safest anti-anxiety agents used in dentistry and has very few side effects. You will remain fully conscious throughout treatment.
Feelings of calm and relaxation are felt almost immediately, and breathing pure oxygen for several minutes after treatment completely reverses the effects.
Administration is comfortable and painless, involving only a mask over the nose. This makes it an excellent option for children with dental anxieties and individuals with mental or physical disabilities.
Oral Conscious Sedation
For patients with more severe anxiety, oral conscious sedation is stronger than nitrous oxide. Dr. Walkington will prescribe a pill for you to take about an hour before your appointment so by the time you are in the dental chair you will be feeling extremely relaxed.
With oral conscious sedation, you can stay awake while still feeling significantly calm and relaxed.
The effects of the prescription sedatives are usually mild. For safety reasons, it is necessary to have someone escort you to the appointment and back home after your visit.
Modern Patient Amenities
The moment you walk through our door, you'll notice that Wildflower Dental & Orthodontics is a different kind of dental office. We understand that people of all ages can feel anxious about dental visits, so we've designed our Frisco and Prosper dental offices to feel a little more like home.



Beverage Station

Come early to enjoy a wide range of beverage options, including coffee, tea, and hot chocolate for the kids.




Free WiFi

Surf the net or catch up on your emails anywhere in our office. You'll never be out of touch!




Flatscreen TVs

Tired of staring at the ceiling during your dental visits? Lay back and enjoy your favorite movie or TV show while we work!




Blankets & Scented Towels

Stay warm with a cozy blanket and freshen up after your visit with a warm, scented towel.