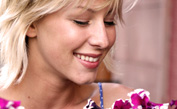 One of the best options out there for enhancing the beauty of a smile is instant orthodontics. With a name like instant orthodontics, you'd expect fast-acting braces or something to that effect, but in actuality, instant orthodontics simply refers to the use of porcelain dental veneers. Porcelain veneers are often called instant orthodontics because they can achieve the results of orthodontic care in just a dental visit or two.
When you meet with a skilled Frisco cosmetic dentist, you can learn all that you need to know about porcelain veneers in greater detail. Right now, we'd like to just look at the basics so you know what's involved and what to expect.
What are porcelain veneers?
Porcelain veneers are thin shells of specially crafted dental ceramic. When in place, the porcelain veneers are able to mask a number of different aesthetic problems that affect the front portions of the teeth.
One of the best things about porcelain veneers is that they are semi-translucent just like you existing tooth structure, meaning that they look completely real and blend in with your teeth whether in natural light or artificial light.
Dental Problems That Porcelain Veneers Can Address
Porcelain veneers are ideal for addressing the following aesthetic dental problems:
Chipped teeth
Cracked teeth
Stained teeth
Slightly misaligned teeth
Spacing issues with teeth
Ideal Candidates for Porcelain Veneers
The best candidate for Frisco porcelain veneers are people who have aesthetic problems with their teeth and are in otherwise good dental health. These patients should also have realistic expectations about the procedure and what it can achieve.
Since porcelain veneers are for aesthetic issues, people with serious dental health issues are not ideal candidates for care through instant orthodontics.
The Porcelain Veneers Procedure
During the porcelain veneers procedure, the first step is the cleaning of the teeth. Next, the teeth will need to be prepped. This involves the removal of a small amount of tooth structure, which is generally a fraction of a millimeter. This is simply done to accommodate the porcelain veneer. Impressions are taken of the prepped teeth from which the final porcelain veneer will be crafted. Once the porcelain veneers are ready, they will be carefully checked for fit before being adhered in place.
Alternatives to Porcelain Veneers
When porcelain veneers are not a good option for the patient, there are plenty of other options to consider. For serious malocclusion, traditional orthodontics is more ideal. Sometimes the general discoloration of the teeth will be more effectively addressed through teeth whitening treatment. Or in cases of major tooth damage, the best option for treatment will be the use of dental crowns, inlays, or onlays.
Weighing All of Your Options
There are many different options out there for smile makeovers and enhancement. We'll be sure to go over all of your options in greater detail so that you can make the most informed decision about your overall dental health and appearance.
Schedule a Consultation for Instant Orthodontics
If you would like to learn more about instant orthodontics and how it can help you have the best possible smile, be sure to contact our Frisco cosmetic and restorative dentistry center today. The entire team looks forward to meeting you in person and helping you achieve the best possible aesthetic results.